---
[General information about Baikal/Buryatia

+]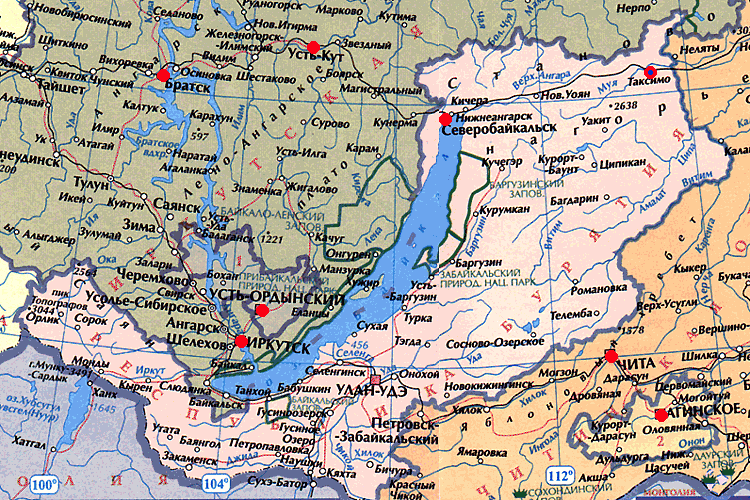 Air photographs from Google-Earth
These kind of pictures from all over the world can be taken with the Freeware for Win 2000/XP and a broadband connection - depending on the region one can zoom in different quality
Download: http://earth.google.com (11 MB)

The following air photographs can be enlarged by a click!
| | |
| --- | --- |
| | |
| Baikal in Siberian snowscape | Baikal in Siberian snowscape |
| | |
| Baikal in Siberian snowscape | Baikal and Ulan-Ude |
| | |
| Baikal, Selenga-Delta, Ulan-Ude | Ulan-Ude, Selenga |
More books, videos
| | |
| --- | --- |
| | |
Part 1: Winter trip, part 2: Summer trip

The Baikal lake is the oldest, the deepest and the cleanest lake of the world - and at the same time one of the most beautiful and mysterious ones. The Siberians call it 'Holy Ocean', 'Siberia's Pearl', 'The font of the planet'. The Baikal contains more water than the five big lakes in northern America and 1000 times more water than the Lake Constance - one-fifth of the whole freshwater reserve on the Earth. Since 1996, beeing world natural heritage of the UNESCO, the Baikal is under the whole manhood's protection. But time will tell if this protection will help the lake to be protected against the ongoing environmental degradation.
Klaus Bednarz visited the Baikal for several months in winter as well as in summer. He talked to farmers, fishermen, hunters, with forest wardens, scientists and ecologists. Combined with dreamlike landscape pictures und atmospheric music he made a two-part film documentation - a special experience for the viewers.
| | |
| --- | --- |
| | Landscape, Baikal, fauna with accompanying Russian commentary |
Adventure Baikal:
If you have already travelled in kayak, you will know the fulfilling feeling to discover the surroundings by use of your own physical strenght and in harmony with yourself and the nature. But why doing it directly on 1700 km? Why in East Siberia being full of bears and Russian Mafia? Without speaking any Russian, with exiguous budget? Detlev Henschel dared this adventure, got into "Siberia's Holy Sea" and canoed along the coast of the deepest lake all over the world. An enthralling report full of surprises, honesty and reverence - not only for kayakers!
Travelling books (examples)
| | |
| --- | --- |
| | |
| | from:B. Thöns: Discover the Baikal, Trescher-Verlag (publishing house), back side |
| | |
| --- | --- |
| | 2. Example of a travel guide for the Baikal region |
Informatif didactic book
Index of contents

Unit 1: Land and people

Geographical location, landscape and waters of Buryatia
Climate Buryatia
Languages, population and administrative divisions of Buryatia

Unit 2: Governmental structure and economy

State-building and symbols of Buryatia
Economic system of Buryatia

Unit 3: History and present

History of Buryatia
Religions in Buryatia
Celebrations, customs and traditions
Buryatian traditional costumes
Cuisine in Buryatia

Unit 4: Cities of Buryatia Unit 5: Science and Education Unit 6: Cultural life

Literature
Theatre
Visual arts

Unit 7: Leisure and tourism

Museums
Protected areas in the Baikal region
Travel destination Buryatia

Bibliography, references
Lectures about Buryatia
in the frames of the stay in Osnabrück in late Nov. 2005
Internet-sites about Baikal
| | |
| --- | --- |
| Baikalplan e.V.: This association works on the stimulation of international understanding between Germany and Russia/Baikal (Domicile: Dresden) with special focus on the environmental sector. | Website |
| | |
| --- | --- |
| Baikal environmental Wave (NGO in Irkutsk) | Website |
| | |
| --- | --- |
| Lake Baikal Homepage (umfangreiche Infos zum Baikal): Home books ecology Latest info from space Encyclopedia Animals Plants Climat Research The world beneath Baikal Geology Circumbaikal railroad Photogallery # 1 Photogallery # 2 Photogallery # 3 Listvyanka Natives In German Word of poet Olkhon island Earthwatch Shopping Travel agences | website |
Baikal Meeting Point
is a joint project of the Buryatian Association for sports, tourism and alpinism and of the Regional Centre in Ulan-Ude for the stimulation of tourism. Website with a lot of information
Impressions (post cards)